You finally got your CNC machine and you have been diligently learning every aspect so you can create those unique, one-of-a-kind products that you have always been dreaming about.  It's time to put on your marketing and sales hat and get your products out there.  To accomplish this you are going to want as many possible places to list your items and start turning your CNC into a cash machine. 
You do not have an online store or website?  Not a problem.  There are many websites that make it very easy for you to sell your CNC made products online quickly.  
Many of these websites have low to zero start up fees and possibly the only expense you will have is a small commission for selling or listing your items.  The best part is that you do not even need to have an actual business to sell on many of these websites.  You simply signup for an account and start listing... 
In this article I am sharing a list of my top 12 recommendations of places online that you can sell your CNC creations:
Etsy is the largest and most well-known platform for selling handmade products online.  When most people think of selling something that they make, Etsy is usually the first place that comes to mind.  Etsy makes it easy to open your shop and they charge a mere $0.20 listing free, which can be active for up to 4 months and when it sells they take a 5% transaction fee plus a 3% + $.25 payment processing fee. (Note these rates are based on the publish date of this article and are subject to change). Please visit https://www.etsy.com/sell for more information on the latest selling fees. 
So if you list an item for $25, it will cost you 20 cents to list it and if it sells you will pay $1.25 for the transaction fee and $1.00 for the payment processing fee.  This will leave you with a net of $22.75.  This is really not bad when you consider the large amount of traffic that Etsy gets every day as well as the tools and support that they offer.   
Here are some examples of projects on Etsy that sellers made on a CNC system: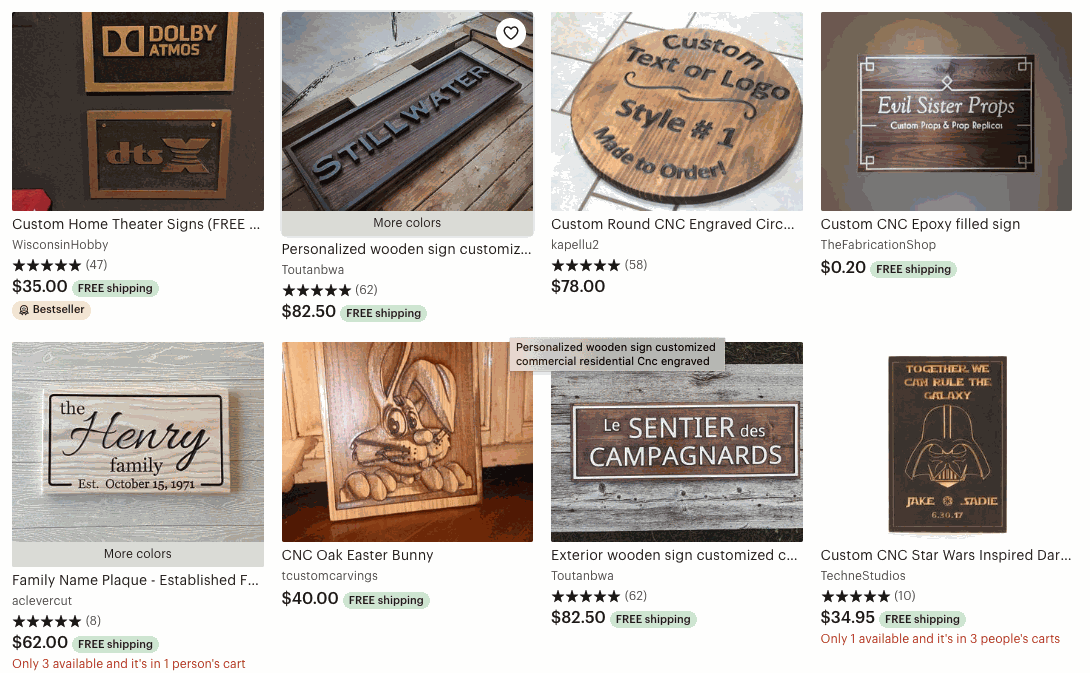 Visit www.etsy.com today to start selling
I do not think I have ever run into anyone who has not heard of eBay.  It is the world's largest online auction and resale platform and can be a perfect outlet for your CNC made products. 
eBay will often charge you a small listing fee to have your product on their website, however they often run promotions where you can list a certain number of items for free.   When the item sells, they will take a transaction fee, which varies on the type of product and if you process the payment via PayPal, then you can expect to pay a transaction fee as well.   For the exact fee structure, please visit their website: https://pages.ebay.com/seller-center/get-started/seller-fees.html
 Here are some items that are presently listed on eBay , which are all made from a CNC: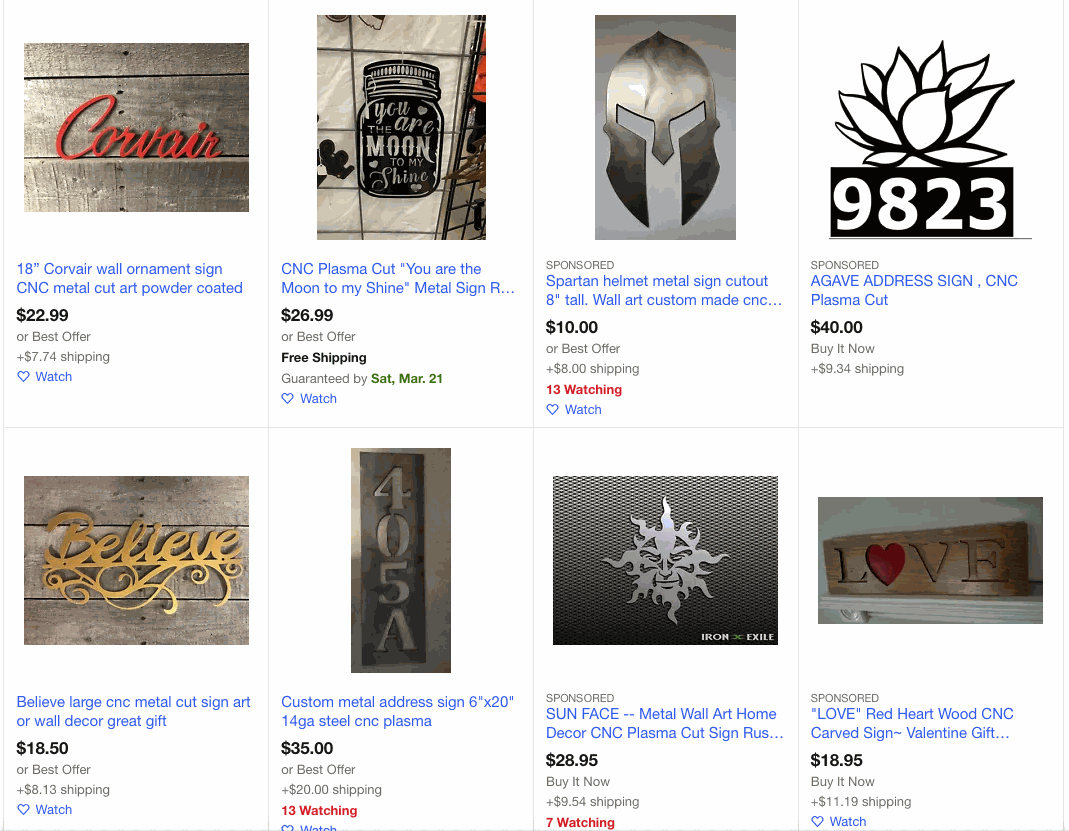 Amazon Handmade is a sub-site of the world's largest online retailer, Amazon.com.  This platform was launched to help artisans reach a global market when trying to sell their creations.  You can sign up for a seller account here: https://services.amazon.com/handmade/handmade.html?ld=AZUSHNDFooter&ref_=footer_hnd.  Their fees are around 15%, which is on the higher side as compared to most of these websites, however when you consider the massive audience and traffic the site gets every day, you might find that the fees are more than worth it. 
Here are some current CNC made products listed on Amazon Handmade: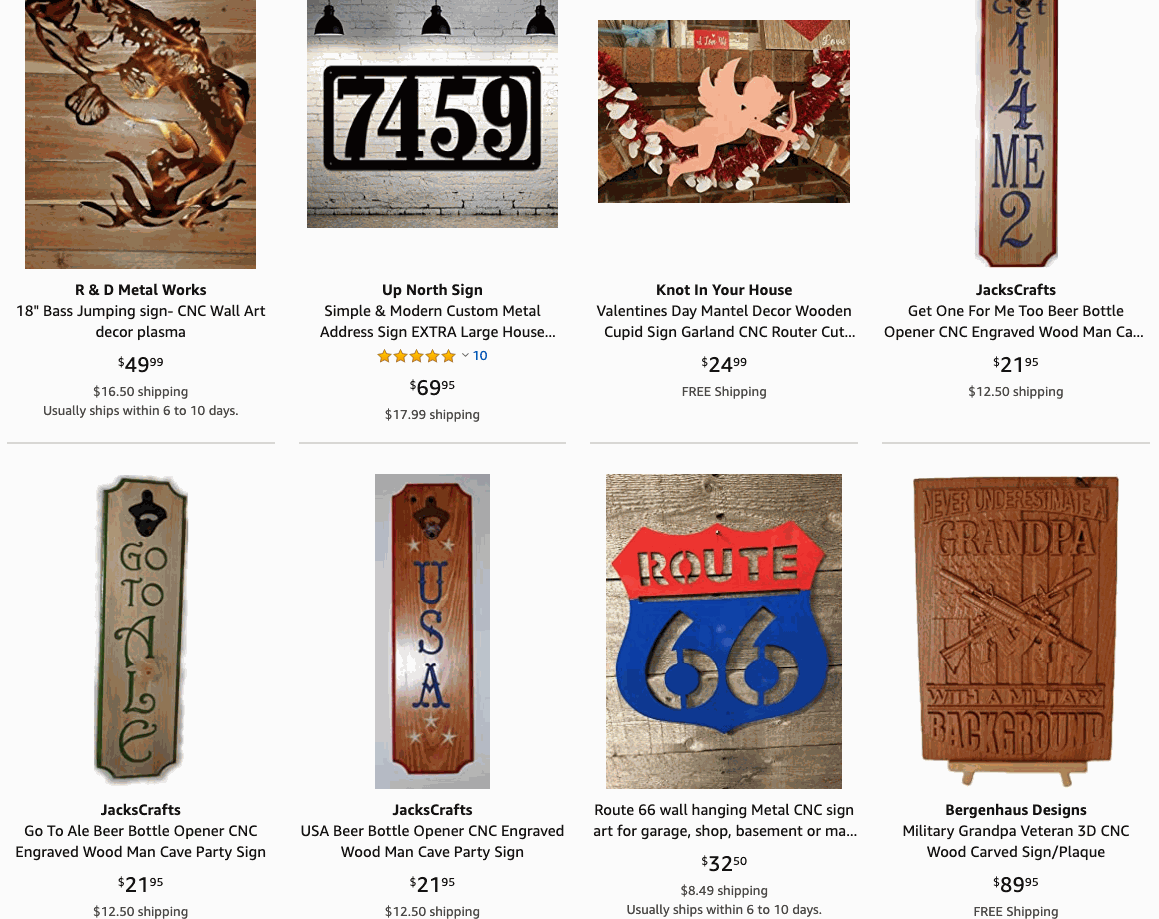 Facebook Marketplace
If you are looking to sell your CNC made creations locally but do not know where to locate potential buyers, then Facebook Marketplace is a really good place to start.  
With over 2.4 billion users on Facebook, it is easier than ever to get your products out there into the market.  Depending on what you sell and your desire to ship to customers, you can choose a geographic location to target your products to, which is especially helpful if you want to only offer local pickup and avoid shipping. 
All you need is a Facebook account.  You can take some photos of your products and add a description and price and wait for people to contact you. The best part is that Facebook does not charge anything for this service if you do not use Facebook Marketplace to process the transaction for you.  They do have selling and transaction fees should you choose to fully utilize their platform.  Please see: https://www.facebook.com/business/help/223030991929920?id=533228987210412 for more information. 
Here are a couple active listings that are local to me on Facebook Marketplace: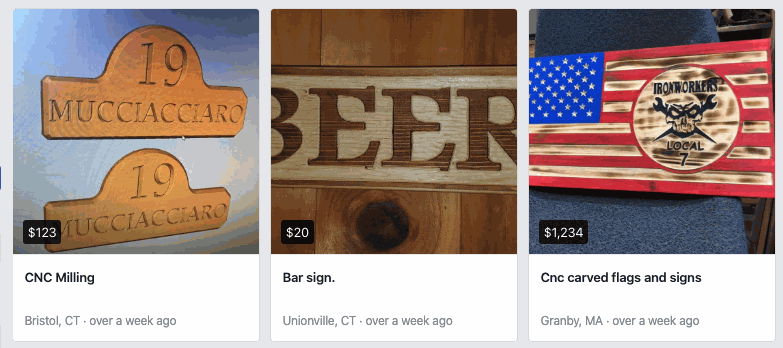 Aftcra
Aftcra is a platform that is dedicated to product creators of "Made in the USA" goods. There is a large variety of hand-made products on the website including paper goods, home decor, kids and baby products, furnishings and more.  Depending on what you make, many of these categories could be perfect for your CNC made products. 
They do not charge a listing fee, so you can place items on the site for free.  However they do take a 7% commission when a product sells.  You can find out more information about becoming a reseller by clicking: https://www.aftcra.com/become-a-seller
Here is an example of some items for sale on the site in the home furnishings category: 
Mercari
Mercari is an app where you can list your CNC made items and sell them to buyers who are browsing the app.  Mercari does not require you to have a "shop" but they do make it easy to list your products in minutes. 
The platform is free to list an item, however they take a 10% commission when you sell an item. One nice thing about Mercari is that they make shipping painless for the seller.  Once the item sells, they automatically send a shipping label to the seller. 
The app is quickly growing with over 150,000 new items listed every day and could be a great place, in addition to others mentioned in this article, to sell your CNC made products.
Here is an example of some items you will find in the "Handmade" section of Mercari: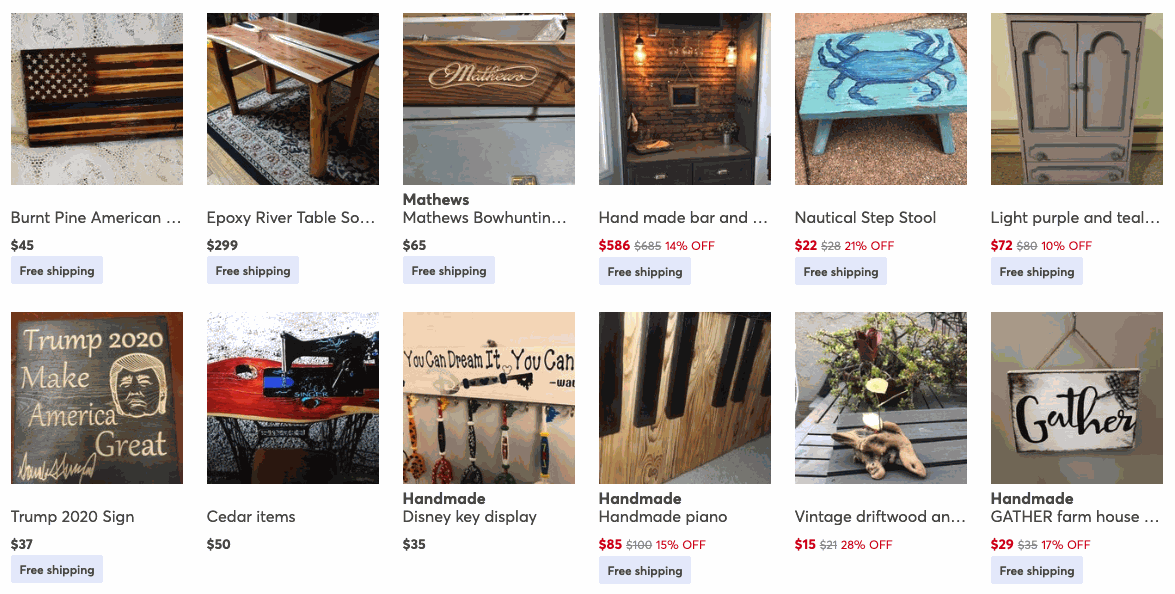 Artfire
Artfire is a community made up of thousands of independent shop owners and makers offering unique handcrafted items.  Artfire connects artists, small businesses and makers from all over the world who have a passion for sharing their creations.  
For more information on joining Artfire, you can visit: https://www.artfire.com/ext/pages/seller-handbook/seller-spotlight-application
Artfire charges a small monthly fee to run your shop and you have the benefit of the listing fees reducing with the more items you list. 
Here is an example of some items that you will find on Artfire: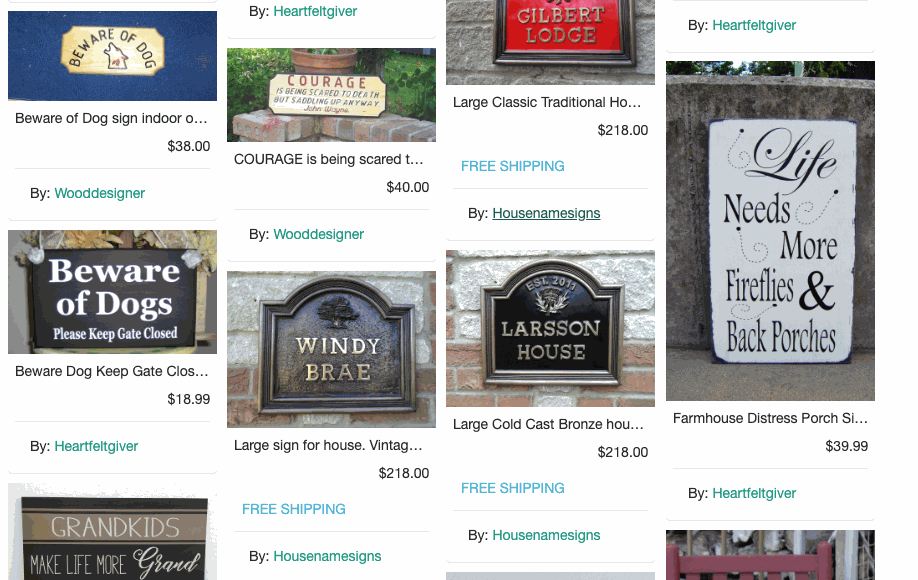 Uncommon Goods
If you have a really creative product that you make with your CNC, then you might want to take a shot with getting it listed on Uncommon Goods.  Unlike others in this article, Uncommon Goods hand selects the items that they choose to list on their platform to ensure the quality and uniqueness.  You can go to this page: https://www.uncommongoods.com/designs and fill out the form to submit your item for their consideration.  They claim that it can take 1-2 weeks before you will hear back from them.  However if you are working with other platforms in this article, then listing with Uncommon Goods might be worth a shot, especially if you have something very unique. 
Here are some of the items you might find on Uncommon Goods: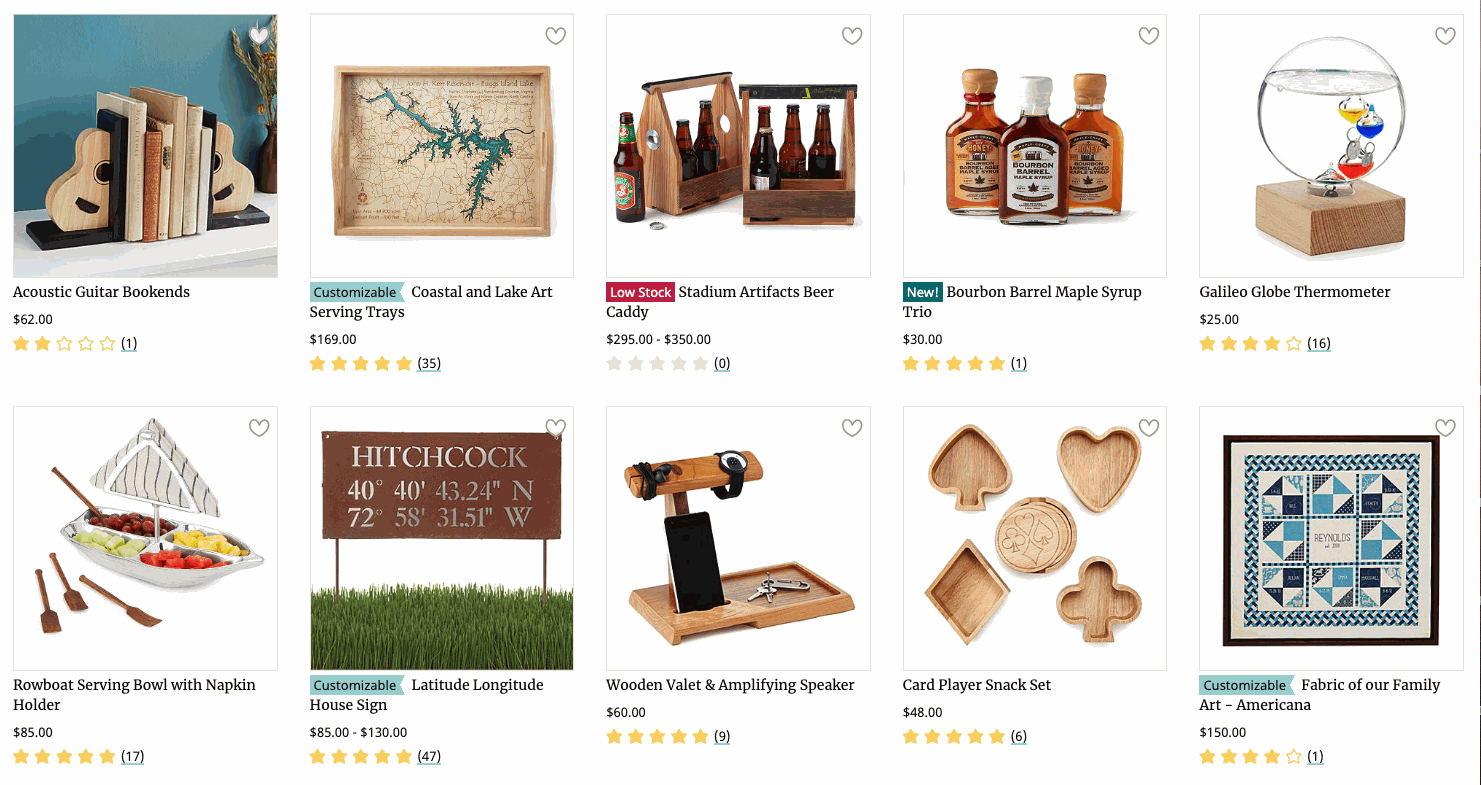 Bonanza
Bonanza is an online marketplace similar to eBay or Amazon that lets you sell just about anything including crafts and other homemade items.  
They do not have any setup or listing fees to get started on their platform.  You also have the ability to sync your Bonanza Marketplace inventory across Etsy and eBay using their online application.
 For more information about selling on Bonanza, you can visit: https://www.bonanza.com/webstores
Here are some items that you might find on Bonanza: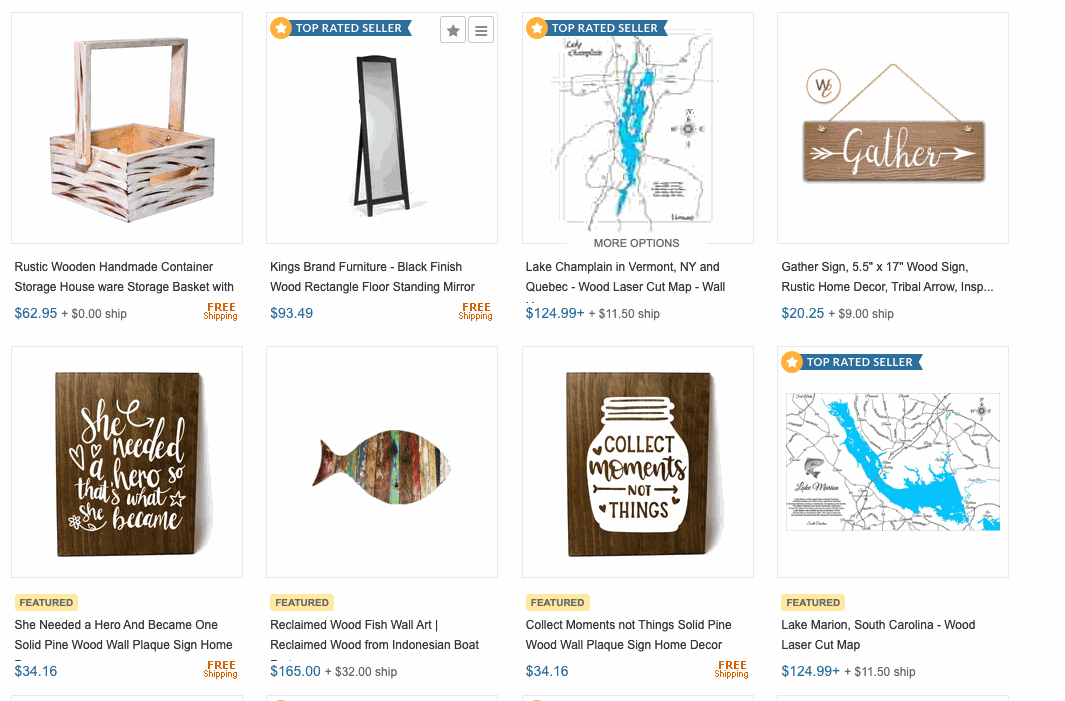 Indie Cart
If you have a great product line, a unique business name and are ready to start selling with your own online virtual shop, then Indie Cart can have you up and running in no time with a store that is all about you.  
Indie Cart is user-friendly, customizable and reasonably priced.  They charge a $7.50/month fee with no additional listing or final value fees so all the money you make from your store goes directly to you.  To learn more about setting up a store on Indie Cart, please visit: https://indiecart.com/sell.php
This is an example of what your store front could look like on Indie Cart: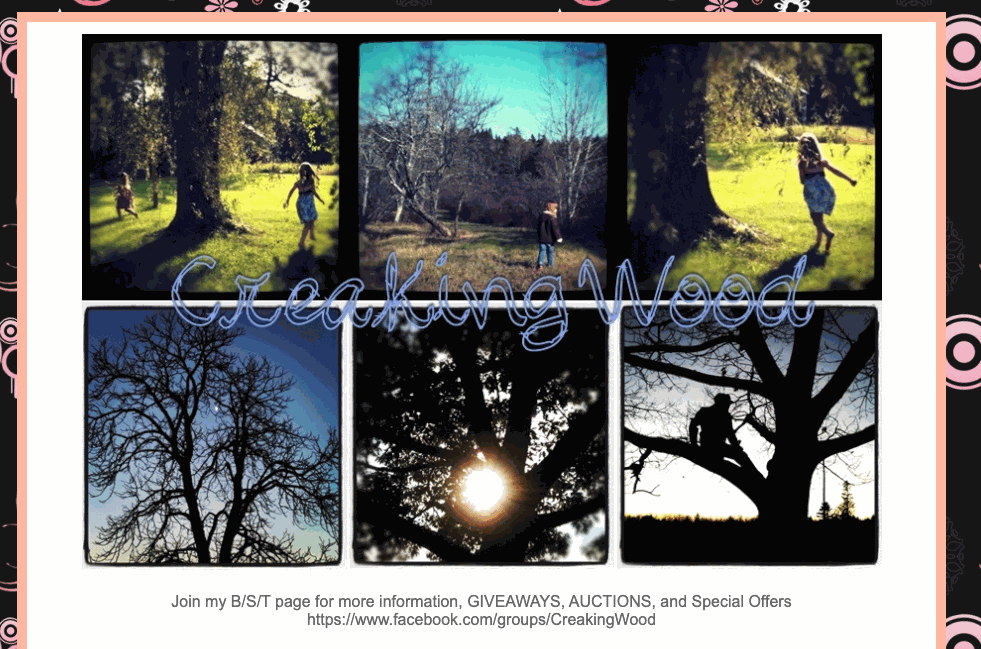 RangeMe
If you make a unique product and have the capability to make it in quantity, then you might want to look to get your product into a national retailer.  RangeMe is a free online platform that makes it easy to showcase your products to thousands of retail buyers. 
To find out more about how to showcase your products to thousands of buyers, visit: https://www.rangeme.com/suppliers
By listing on RangeMe, you can reach buyers from companies such as: 

Create Your Own Website
In my opinion, one thing that every person selling their own CNC made products should consider is setting up a website.  Even if you use one of the services mentioned above, there is still a comfort factor in knowing you have control over your own website.  Should something change and you build your whole business on a someone else's platform, then you risk losing all your marketing exposure.  So it is always a good idea to keep your own site as well.  Additionally, you can easily share your website on social media and with friends and family to help promote your business.   
Having a website, though, does not mean instant traffic.  Just making a site is not going to open the flood gates of sales.  This is why the services and platforms above are so important - because they can get you in front of a lot of people quickly due to the fact that they all have a large user base.  
Once you get your website up and running you can add a shopping cart and inventory management with software like Shopify or WooCommerce.   If you are not website savvy, you can look to a module-based website designer like Wix.com which makes building a website very easy.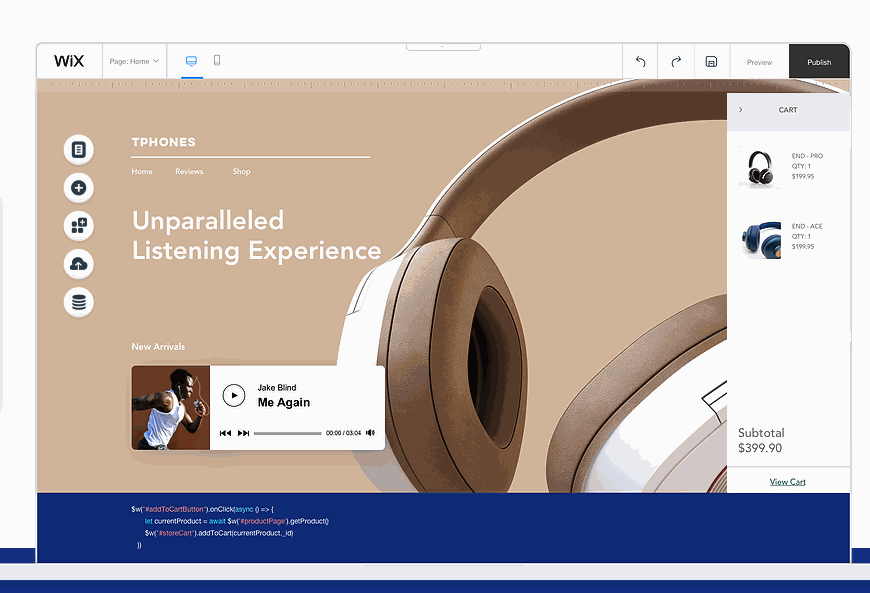 Selling CNC made items online can provide for multiple streams of income for you, your business and your family.
With a little bit of time, research and commitment, you can start selling your CNC made products online and begin generating income today!   
If you do not currently have a CNC system, contact us today and we would be happy to help you take your ideas and turn them into a income generator quickly and affordably.
Author: Erick Royer.     Contact Info:  info@stepcraft.us or 203-556-1856