STEPCRAFT M.700 CNC System
Much More Than A CNC Machine!
More than a CNC machine! From the Freestyle Milling to two different machine table levels, the STEPCRAFT M-Series offers you unprecedented freedom. This makes the STEPCRAFT M-Series the most mobile and versatile CNC milling machine in the world. 


With the STEPCRAFT M-Series, you can easily process large sheets of material, floors, or even existing furniture.  You can let your creativity run free because all tools that are compatible with the D-Series can also be used on the STEPCRAFT M-Series.  You can use the system for milling, cutting, carving, 3D printing, laser engraving, and much more. The STEPCRAFT M-Series is perfect for workshops, job sites, schools, and production facilities.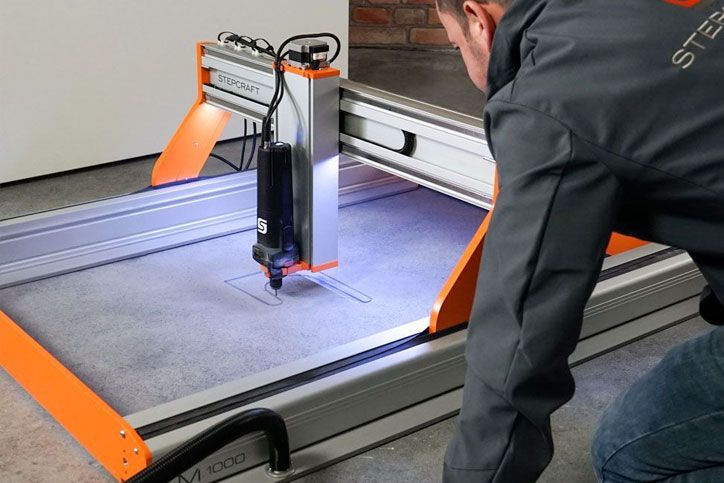 Freestyle Milling™
What is Freestyle Milling™? STEPCRAFT's M-Series line of CNC machines gives you the ability to mill, cut, or carve into just about any surface with precision accuracy.  The M-Series machines allow you to remove the machine bed completely and mill directly into the material beneath the CNC.  This can be large sheet material, directly on flooring, existing furniture, and even on a wall.  When you use the optional Vacuum Rails with the M-Series CNC, a standard shop vac will provide more than enough holding force to keep the machine held securely in place while the job is performed. Imagine the possibilities of what you can create when there are no limitations!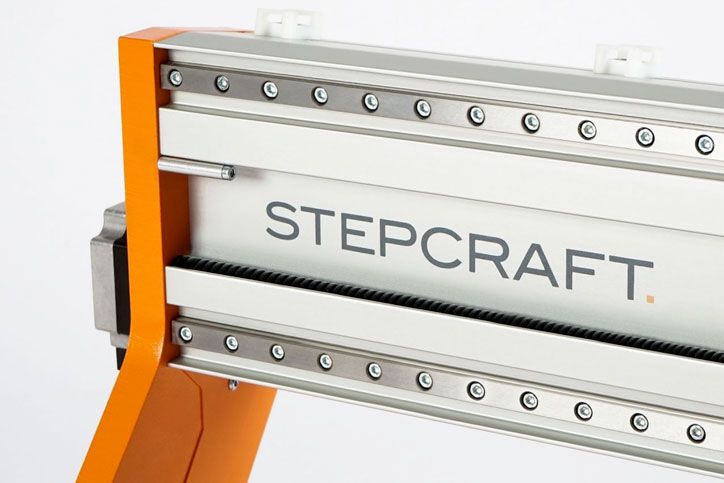 Precision Linear Guides
Every axis of the STEPCRAFT M-Series CNC machines utilizes precision hardened linear guide rails from Bosch Rexroth.  These recirculating ball bearing linear rails provide a high load-bearing capacity, extremely reliable performance with no wear.  A special seal is built into every bearing carriage to protect the linear guide system from dust and debris, giving you a reliable, virtually maintenance-free CNC guide system. German-based Bosch Rexroth is a global leader in the manufacturing of precision ball bearing linear guide systems. Only the finest components are used in the STEPCRAFT M-Series CNC machines which gives you high performance and a very accurate CNC system.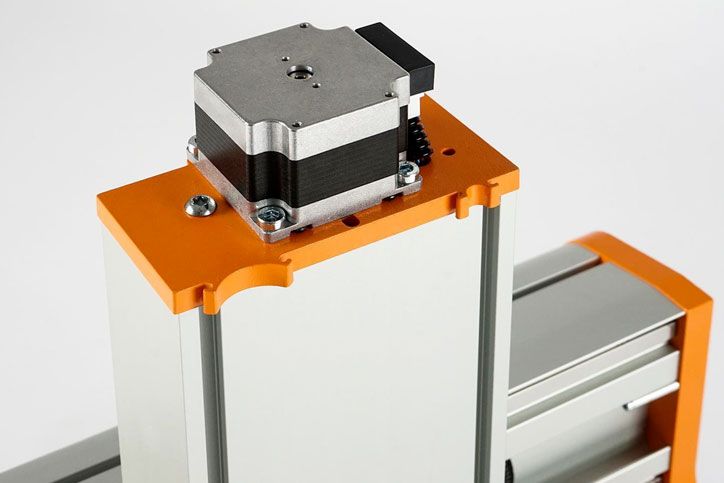 Powerful NEMA 23 Stepper Motors
Four, high torque Sanyo Denki NEMA 23 stepper motors are used in every M-Series CNC system.  A single motor on X and Z and dual motors on the Y-axis ensure that you have more than enough power for all your CNC projects, no matter how large or what material you are machining into.  In fact, this motor drive system provides more power and cutting speed than any competitor in its class - over 120mm/second.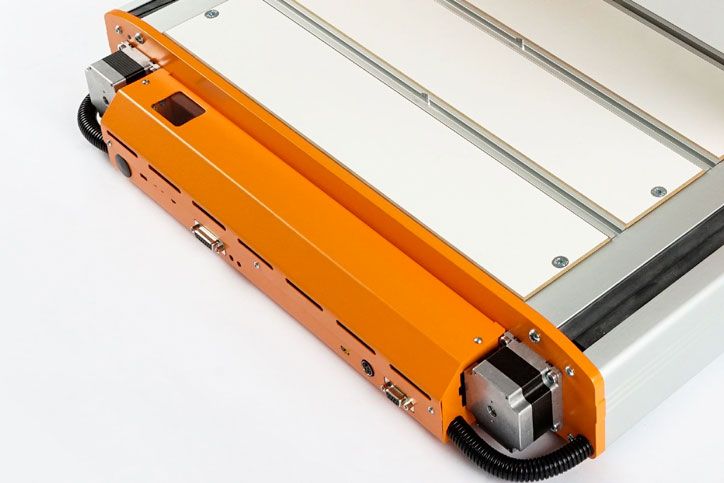 Semi Closed-Loop System™
With the STEPCRAFT M-Series, the CNC's gantry will automatically realign itself after each reference run when homing the machine.  With the optional Semi-Closed Loop System, you can add the additional insurance of step monitoring in your CNC system. If the system detects a deviation from predefined steps from any motor, such as in the event of a crash or incorrect settings, the emergency stop is triggered automatically and your workpiece is protected.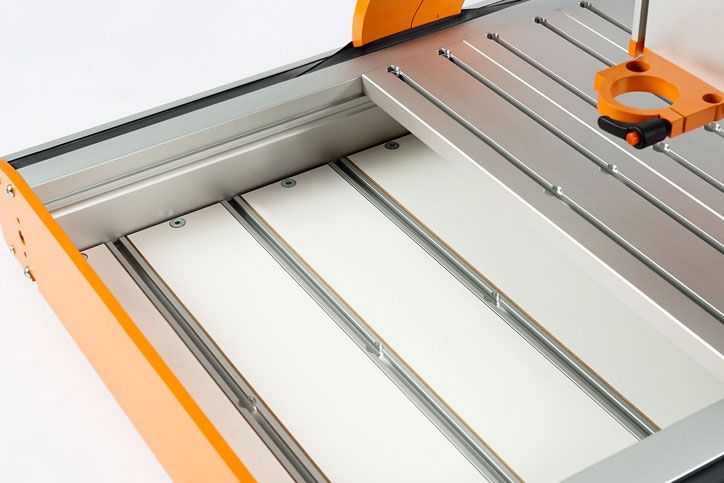 Two Machine Table Heights
Each STEPCRAFT M-Series machine gives you the ability to configure the machine table with two different height locations, giving you up to 8" of Z height clearance. Why is this important?  Because now you can work on taller projects with ease and when using accessories like the 4th Axis, you have more vertical capacity to open up a whole new world of project possibilities.  The STEPCRAFT cam lock table mounts allow you to remove and reconfigure the machine table the simple turn of an Allen wrench.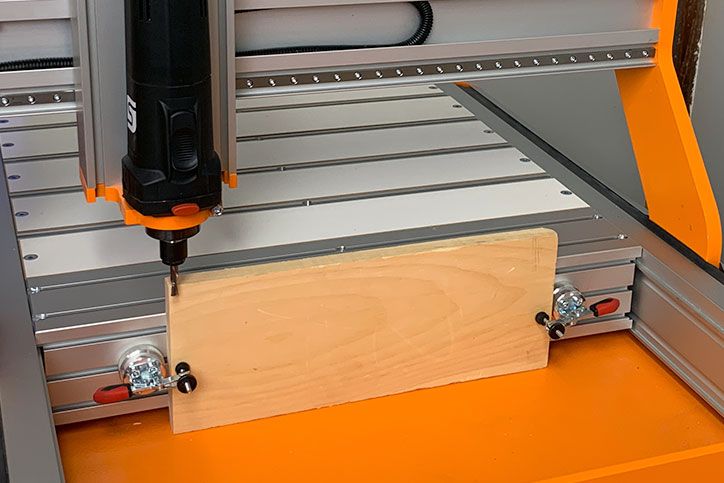 90º Vertical Clamping Fixture
Dovetails and box joints are very popular amongst woodworkers and cabinetmakers.  Having a CNC with the ability to securely install work material vertically to machine the ends of boards is a bonus in any shop. Think about all of the possible end joints that you can incorporate into your CNC projects with the ability to machine on the ends of materials.  Joints that would be next to impossible with standard hand tools can be accomplished with ease on the M-Series. This table attachment can be added or removed in seconds - less setup time equals more production time.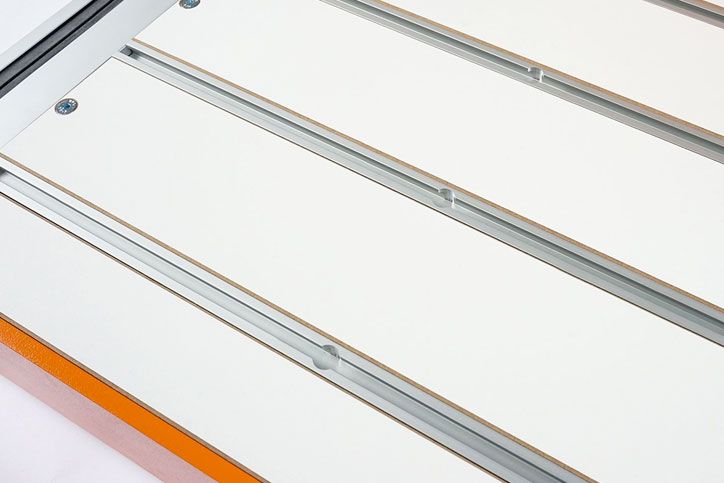 Two Machine Table Options
To further increase the flexibility that you have with the types of material that you can process on the STEPCRAFT M-Series CNC systems, we offer two different types of machine table options.  The standard machine comes with MDF wood slats sandwiched between aluminum T-slots every 100mm.  If your applications require a more rigid solution or if you require the use of liquid lubricant on your workpiece, such as with metals, then you can add the optional all-aluminum T-slot table. All table elements can be quickly added or removed from the machine as needed.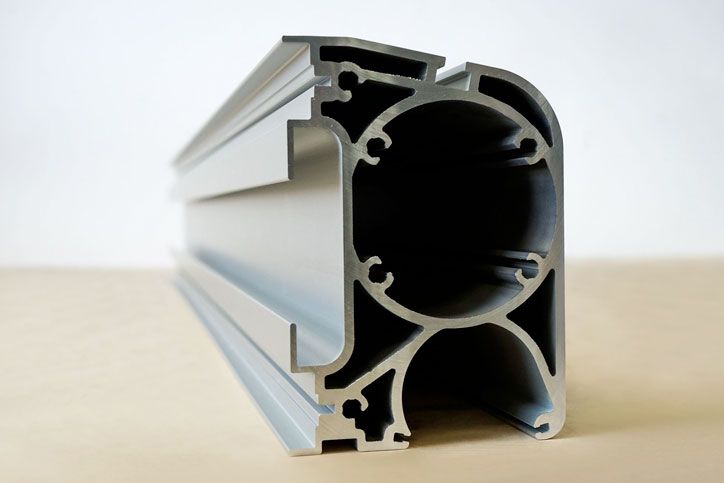 Highly Stable Frame Profiles
The frame profiles are one of many areas where STEPCRAFT really excels and is constantly setting new standards with regards to the stability and design of CNC machines.  The custom extruded frame profiles are the result of countless hours of design engineering and testing utilizing the best in CAD/CAM and analysis software.  These design elements create a high force absorption and even distribution of the forces within the axis.  An extremely high torsional stiffness is achieved this way.  The STEPCRAFT frame profiles offer a level of stability that is not possible with steel.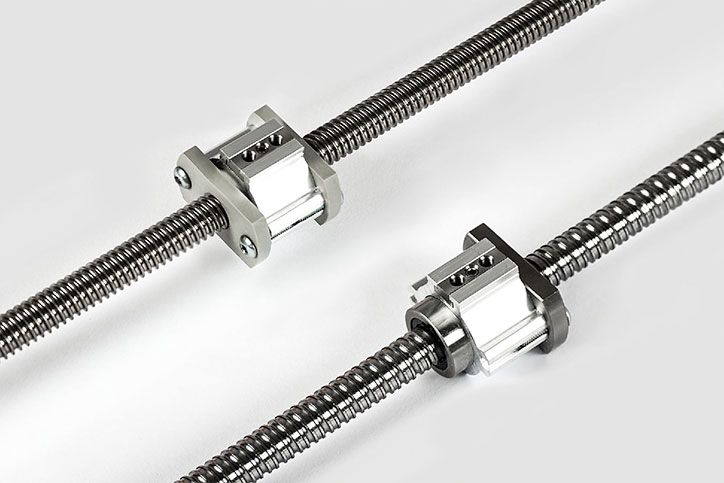 Precision Drive System
The STEPCRAFT M-Series works with maximum precision and accuracy and runs quietly and vibration-free.  You can choose you have your M-Series machine setup with the standard igus® dryspin threaded lead screws or you can upgrade to the optional HIWIN® Ball Screws. The dryspin lead screws are based on igus high-performance polymers and have anti-backlash adjustment capability to always ensure your machine is running accurately.  The HIWIN ball screws offer maintenance and backlash-free drive system for applications where you require the highest accuracy, such as with jewelry or intricate prototyping. 
Available In 3 Different Machine Sizes
STEPCRAFT offers three different machine sizes in the M-Series so you can choose the machine that best meets your needs and budget. Each machine has all the same features and performance numbers with the physical size and size of the work area being the only difference.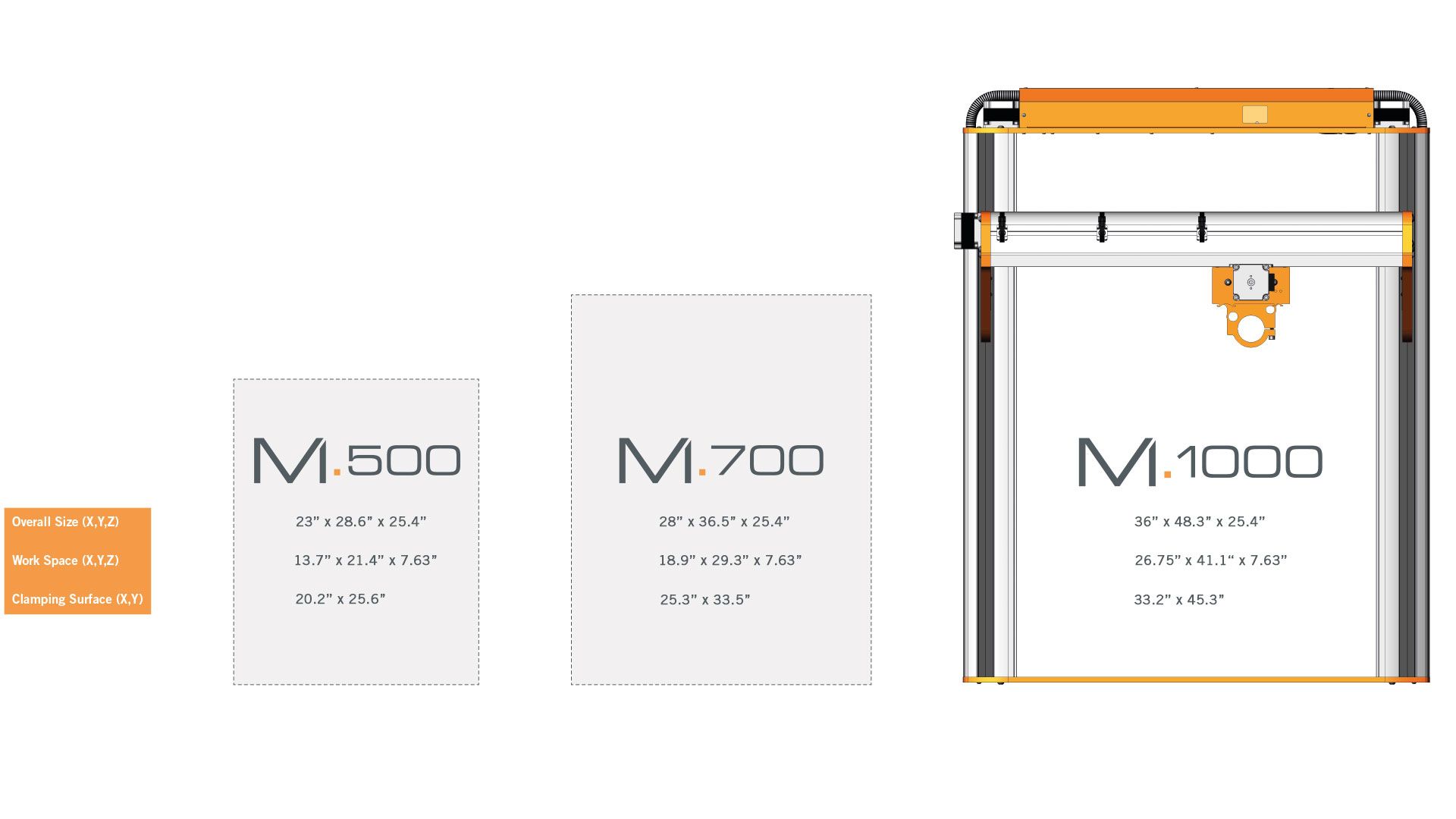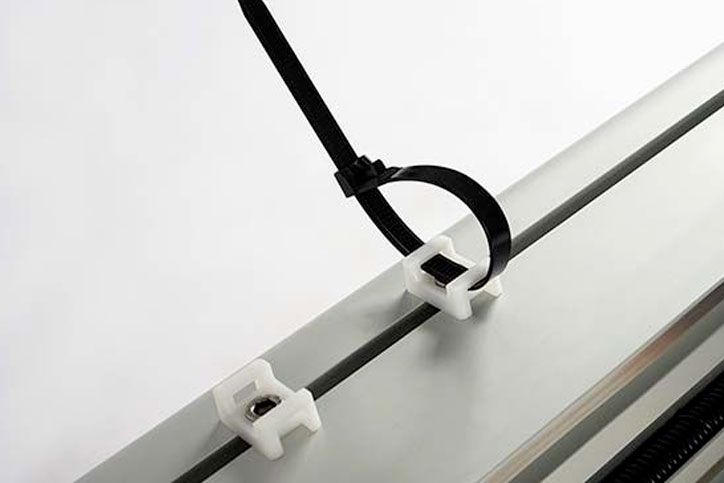 Flexi Guides™
Sometimes it's the simplest things that make all the difference.  Cable clutter can be a real nuisance with many CNC systems.  STEPCRAFT developed the Flexi Guides™, which is included with every M-Series CNC system.  These white plastic holders can be easily located in any position along the X-axis in the specially designed T-slot track.  These can be used to secure any and all cables and hoses from the various STEPCRAFT CNC attachments, keeping your workplace neat and the cables and hoses from getting in the way or damaged. 
Fully Ready-To-Run Systems
STEPCRAFT USA offers all M-Series CNC Systems fully assembled and tested by one of our technical CNC experts in our facility in Torrington, CT.   This ensures that your machine will arrive ready for you to plug in and start making projects.  However, if you are the type of person who loves to build a machine, you can also order the M-Series machines in a CNC kit for a slightly reduced cost.  If you have any questions about this or are undecided as to what option is best for you, then please email us at info@stepcraft.us or call us at 203-556-1856 and we will be happy to assist you.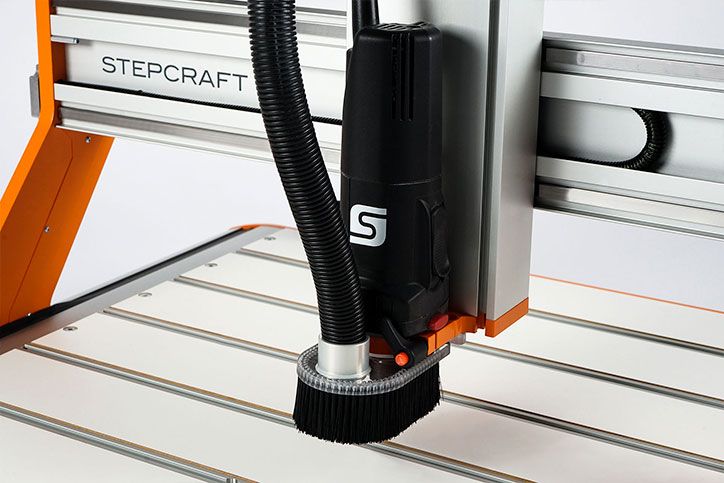 Optimal Dust Protection
Keeping your machine running as long as possible between maintenance sessions is critical to having a healthy profit margin.  The easiest way to get the most uptime possible is to keep dust and debris from getting into critical areas on the CNC system.  The M-Series CNC machines use three rubber seals on the Y-axis to prevent debris from entering the machine, thus keeping the drive system and linear guides clean. Additionally, the new floating dust boot traps most of the dust and debris before it can even become a problem. 
Technical Specifications of the STEPCRAFT M.700 CNC System
Machine's Footprint (Width, Length, Height)
28" x 36.5" x 25.4"
X-Travel
18.9" (479 mm)

Y-Travel
29.3" (743 mm)

Z-Travel
7.63" (194 mm)

Gantry Clearance (Z)

8.07" (205 mm)

Table Work Area (X, Y)

25.3" x 33.5" (643 x 850 mm)

Max Feed Rate
283 in/min (120 mm/sec)

Lead/Ball Screws
igus dryspin 12x5 mm (optional HIWIN ball screws 12x5 mm)

Linear Drive
Bosch Rexroth ball bearing linear guides

Stepper Motors
Sanyo Denki NEMA 23 (1 on X and Z and 2 on Y axes)
Positional Accuracy/Repeatability

+/- 0.0009" (+/- 0.025 mm) w/igus dryspin
+/- 0.0005" (+/- 0.015 mm) w/HIWIN ball screws
Programmable Resolution

+/- 0.0002" (+/- 0.00625 mm) 

Backlash

+/- 0.0019" (+/- 0.05 mm) w/igus dryspin
+/- 0.0012" (+/- 0.03 mm) w/HIWIN ball screws

Weight

78 lbs (35kg)

Power Requirements

110V-240V, 50-60 Hz, 180 watts 
(Comes with 110V USA plug)

Interface

USB 2.0 / Parallel (LPT1) / Network RJ-45

Computer Requirements

PC with 1Ghz Processor (Laptop, Desktop or All-in-One), USB 2.0 interface, Windows 7 or higher (32/64 bit) OR MAC OS X 10.3.9 or higher with Windows emulation (Parallels or BootCamp)

Scope Of Delivery
The M-Series machine will arrive completely ready to run.  If you ordered a DIY Kit then it will come with all necessary mechanical and electrical components. 

UCCNC control software

UC100 Parallel to USB interface

USB Cable

Power supply with 110V USA power cable

3 x Flexi Guides™

WERA Tool Set

Operating Manual

Detailed assembly manual
Required Tools
WERA tool set (Included in the DIY Kit)

5.5 mm box wrench

Wire Cutter

Long-nose pliers

Cutter Knife

Digital Calipers

3-in-1 oil and grease
System Requirements
PC with 1GHz processor

USB Interface (Optional Ethernet)

Windows XP or higher (32/64 bit)

MAC OS X 10.3.9 or higher with Windows Emulation