STEPCRAFT-3/D.420 CNC System
The STEPCRAFT  D-Series is the industries leading CNC solution for the hobbyist/maker.  Its robust design, powerful drive system and superior accuracy all make this CNC milling machine extremely reliable, fast and precise.  As with all STEPCRAFT CNC solutions, the D-Series can be used with a wide variety of tools and attachments, giving you the utmost in versatility and performance.  The D-Series systems can be used for milling just about any material from wood to non-ferrous metals like aluminum as well as for 3D printing, laser engraving, plotting, vinyl cutting and much more.   The D-Series is the perfect CNC system for home, schools or for small businesses. Best of all, each D-Series CNC System comes with a 5-year manufacturer's warranty from the date of purchase. 
The D-Series CNC systems can be easily built and setup by yourself, not only saving you money, but the assembly is also a fun process. Thanks to our world-class instruction manual and accompanying video course instruction, you can feel confident that you machine will go together fast, even in you are not super technical.  If you do not feel you are up for the task of building your D-Series CNC system, we also offer them as a full ready-to-run system.  The machines will be shipped to you ready to remove from the crate and setup in your workshop to start using in a matter of minutes. 
A CNC MILLING MACHINE FOR EVERYONE
From small ideas to entire CNC projects, the STEPCRAFT D-Series has a solution to meet your size requirements and your budget.  We offer the D-Series in three sizes: D.420, D.600 and D.840.  This means you can buy the machine that meets your exact needs with the size system that will fit perfectly in your work shop.  You have big ideas and we have a big CNC to match.  The D.840 is our largest D-Series with plenty of room for your hobby or small business to grow.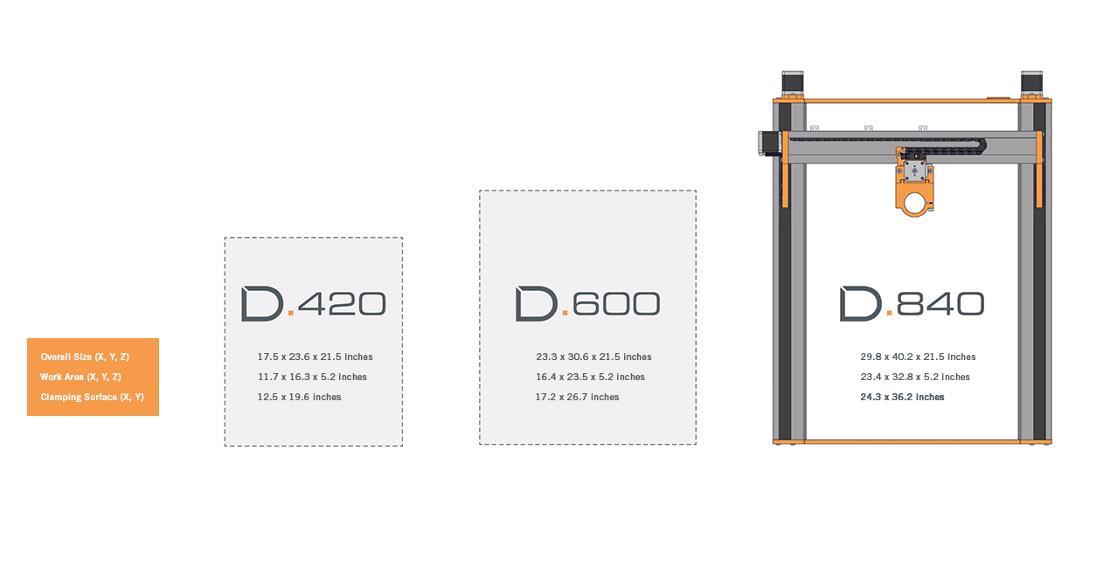 A PRECISE DESKTOP CNC SYSTEM
Our goal with the D-Series line of CNC systems is for anyone to be able to assemble their machine and have it be perfectly aligned to a high level of precision right out of the box with no special tools.  We have exceeded this goal with the D-Series machines.  Each machine is self aligning to the correct tension eliminating the time-consuming process of final machine alignment.  This means you can concentrate on assembling the machine knowing it will be ready to start milling as soon as you are done.  This considerably simplifies the assembly, as compared to our previous versions.  
Our adjustable lead screw nuts are now a standard part of every D-Series machine.  They allow you to be able to fine tune linear accuracy over time to achieve highly accurate repeatability numbers not commonly seen in desktop CNC systems - outperforming all CNC machines in its class. 
---
PERFECT PRELOAD
The D-Series machines now feature an All Steel Motion System modeled after our proven industrial design of the Q-Series systems.  This motion system has been engineered to fit perfectly as soon as the machine is assembled.  There is no longer a need for any adjustments  as the steel shafts run absolutely parallel with the correct amount of preload right out of the box. This ensures an ultra-smooth running gantry system that is rigid, precise and can withstand thousands of hours of use holding the same tolerances as the day is was new.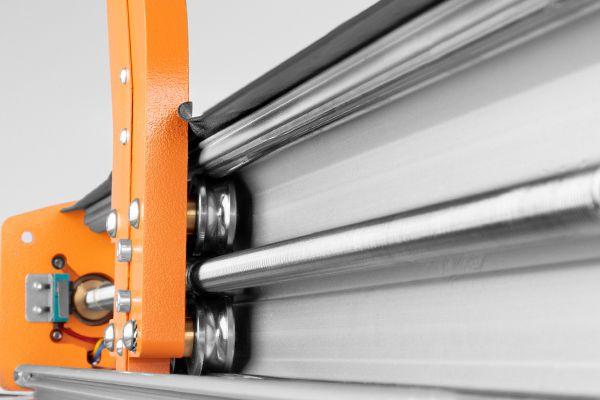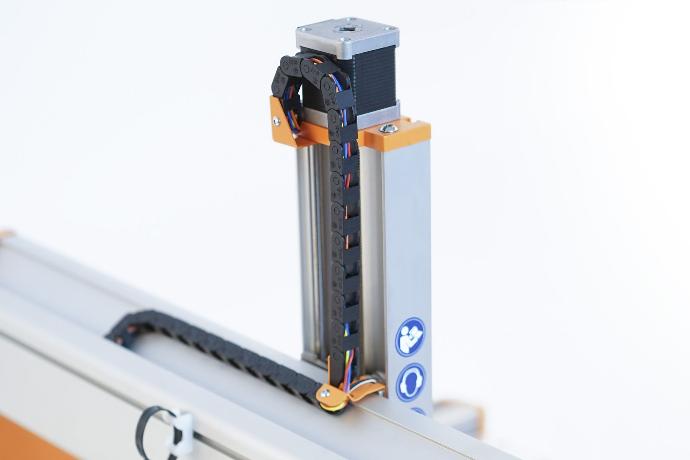 NEAT AND PROTECTED
The igus® cable chains protect and guide the cables through the machine. This increases the service life of the cables and protects them from outside obstructions or damage.  CNC Accessories can be attached to the two T-slots on the Z-axis. The cables can be routed cleanly and conveniently using the Flexi Guides™ on the X-axis. 
At a glance:
igus® cable chains

T-slots in the Z-axis

Flexi Guides™
RIGID TABLE AND FRAME
The STEPCRAFT D-Series is one of the most rigid desktop CNC systems that you will find on the market.  We have engineered the frame with reinforcing crossbeams that lock into the side frames ensuring that the machine is always square and rock solid. The crossbeams also support the bed, providing you with a rigid platform for all of your projects. 
At a glance:
Very stable base frame

Up to 7 crossbeams

Very precise, stiff machine bed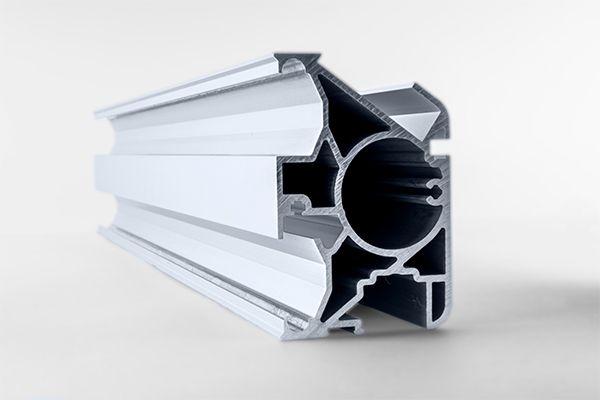 CUSTOM EXTRUSIONS ENGINEERED FOR EXTREME RIDIGITY
All axes of the D-series machines have been engineered with special hollow chamber extrusion profiles which geometrically provide superior strength and torsional stiffness.  We never use off-the-shelf extrusions for our machine frames - quality, accuracy and rigidity are always our top priority!
At a glance:
Custom extrusions on all axes

Optimal force distribution

Superior torsion stability
POWERFUL DRIVE
The STEPCRAFT D-Series CNC systems are among the most powerful and accurate desktop systems in the market.  Each machine is equipped with the All-Steel Motion System™, modeled after the proven design of our industrial Q-Series line. Additionally each D-Series machine comes standard with very powerful, 2 ampere Sanyo Denki stepper motors on each axis and the Y  axis now features dual stepper motors for the most power and performance possible.  Each axis uses igus® precision drive screws which provide smooth and accurate milling with no wear. Strong! Fast! Precise!  The STEPCRAFT D-Series machines will get the job done!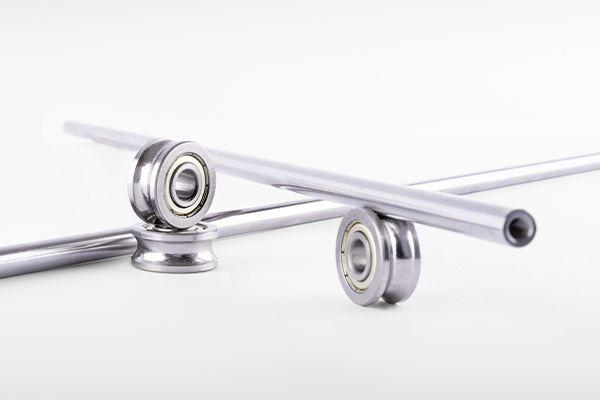 STEEL ON STEEL WITH ALL-STEEL MOTION SYSTEM™
The All-Steel Motion System uses precision machined 8 mm hardened steel shafts with ultra-smooth ball bearing machined steel rollers. This drive system has been modeled after the drive system used in our industrial Q-Series line of CNC system.  This proven design provides  extremely smooth and wear-free operation. 
At a glance:
Steel rollers on ∅ 8mm steel shafts

Smooth axis operation

Wear-free

Steel rollers with double row bearings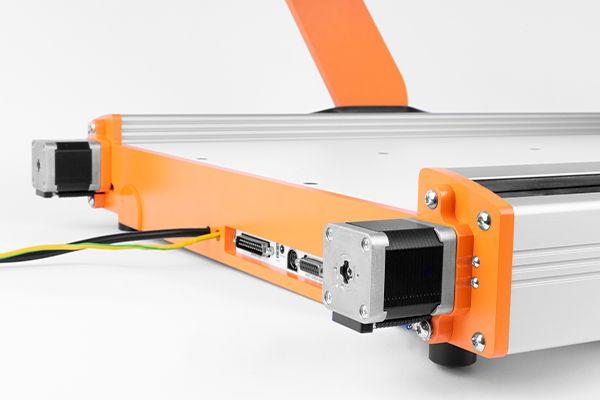 POWERFUL STEPPER MOTORS AND IGUS® PRECISION SCREW DRIVES
The STEPCRAFT D-Series uses powerful 2A Sanyo Denki stepper motors on all axes.  Together with the igus® precision drive screws and two stepper motors on the Y-axis, the current D-Series moves 40% faster than its predecessor. 


At a glance:
2A Sanyo Denki stepper motors on all axes

Two stepper motors on the Y-axis

40% faster travel speed

igus® precision drive screws


MULTIFUNCTION SYSTEM WITH CNC ACCESSORIES
At STEPCRAFT we have always been know for our vast line of CNC accessories and attachments which provide true multifunction capability for each of our CNC systems. Because of this, our base CNC machine can be used for precise milling of many different materials or it can quickly be converted to a CNC laser, 3D printer, Plotting, Cutting  or Engraving machine.  Unlike many other "multifunction" machines on the market, STEPCRAFT machines truly perform as well as a dedicated system designed for that accessories purpose.  You get the same rigidity, performance and accuracy whether you are milling aluminum or laser engraving wood.  This means you can outfit your shop with many solutions all within the same footprint and you can quickly switch back and forth between attachments in a matter of minutes.  The application potential for the STEPCRAFT D-Series is virtually limitless.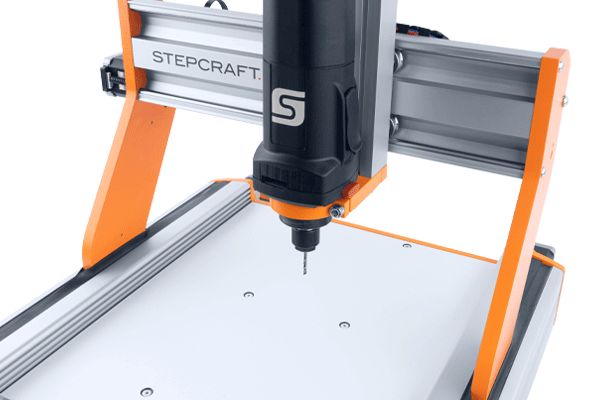 MILLING
You can process a wide variety of materials to create a limitless number of projects on your D-Series CNC system using our MM-1000 DI Milling Spindle.  The MM-1000 DI is a digitally controlled 1000 watt spindle that will effortlessly mill through hardwoods, plastics and non-ferrous metals.  The spindle will turn on and off with the software and the RPM is controlled by your settings in your CAM program.  The best part of the MM-1000 DI spindle is that you can add an optional Automatic Tool Changer to fully automate your D-Series CNC.  You simply choose the tool number in your CAM program and the CNC will do the rest.  This allows you to operate your D-Series CNC in an unattended manner while you can use your time wisely for other tasks.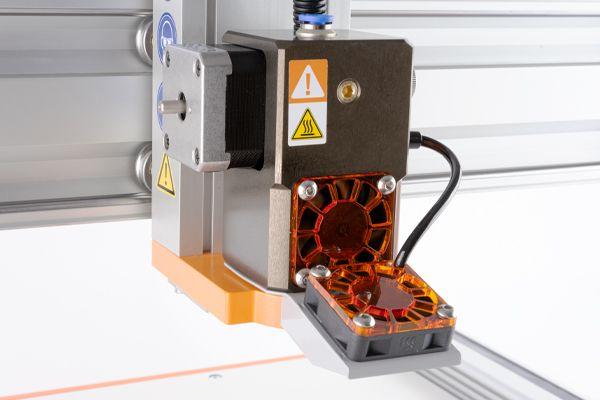 3D PRINTING
You can add a 3D print head to your D-Series CNC system and transform your milling machine into a full-function 3D printer for your home or business. Incorporating additive manufacturing capability to your CNC means you can now produce some very complex projects that would be too complicated for a 3-axis CNC milling machine.  You can add the optional component fan to the laser to print sharp surfaces easily.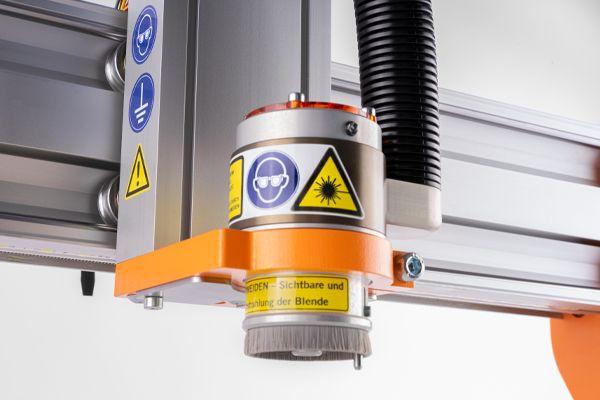 LASER
The STEPCRAFT DL445 laser attachment can be added to your D-Series machine and give you the ability to laser engrave into a wide variety of materials such as woods, plastics and even some metals. The powerful 3W laser can even cut thinner materials into intricate shapes. Since the laser and milling spindle use the same tool holder with the same XY zero, you can quickly interchange both tools to mill and then laser engrave in the same project.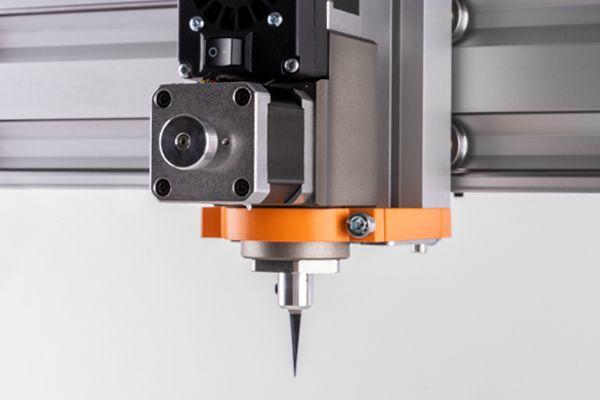 CUTTING
 The OTK-3 Oscillating Tangential Knife is used for making very precise cuts in a wide variety of materials such as cork, rubber, foam, cardboard and more.  The knife blade oscillates up and down allowing you to cut rapidly and the blade is also steered by a stepper motor so it is always facing the direction of the cut.  This allows for much more precise cutting than a traditional drag knife cutter. 
BUILD YOUR OWN CNC MACHINE VS. READY TO RUN
The STEPCRAFT D-Series CNC systems are available as a CNC kit or as a ready-to-run solution.  If you are handy and like the idea of assembling your own machine, our world-class, full color assembly manual coupled with our online videos will help make the assembly process and enjoyable experience. Building your own machine will not only save you money but it will allow you to become familiar with the inner workings of the CNC system so you can best take care of it long into the future.   If you would prefer not to assemble the machine, not to worry as we offer a completely ready-to-run solution as well.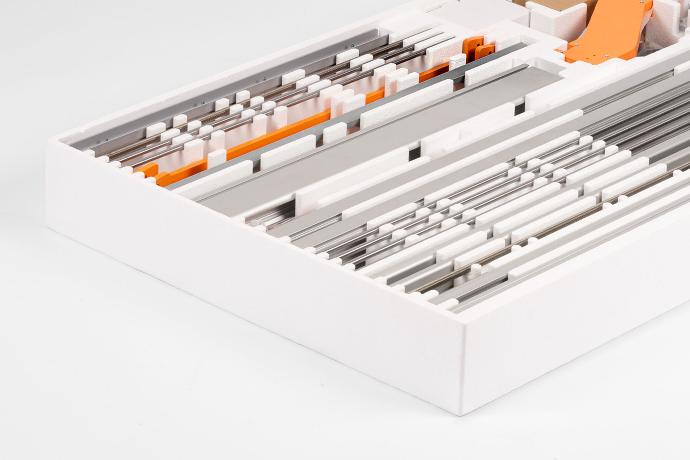 BUILD YOUR OWN CNC MILLING MACHINE
The build process of the D-Series is very intuitive and the average person can have the machine completely assembled and ready for use in around 4-6 hours. This reduces the assembly time for this 3rd generation of the D- Series by over 2 hours as compared to previous models. By building the machine yourself, you will become familiar with every nut and bolt  which allows you to carry out any subsequent maintenance yourself. 
Advantages of the CNC Kit:
Save money by assembling yourself

Easy, quick assembly

EasyBuild assembly instructions and online video

Maintain the machine yourself

The process is fun!
READY-TO-RUN
The ready-to-run solution is idea for the people who don't have the time or feel comfortable with assembling the machine or are simply so excited to get started turning ideas into reality that you just want to open the crate, plug it in and start making things.  Each ready-to-run D-Series CNC machine is expertly built by our factory technicians and undergoes a thorough inspection and testing process before it is carefully packaged and shipped to you. Our easy lock crate systems allow you to quickly remove the machine from the crate  without any special tools so you can get it setup in your workshop minutes after you receive it.
Advantages of the ready-to-run system:
Saves time

Gets you started faster

Professionally built by our factory technicians

Ready to use as soon as you receive it
STEPCRAFT D-SERIES FEATURES
---
Integrated modular control electronics for an easy connection to the computer via USB or parallel interface (Optional ethernet interface available) 

Standard 43mm tool holder enables use of Stepcraft attachments and accessories as well as third-party devices (if necessary, with adapters)

Integrated clamping system (clamping bars) for plate materials up to 15mm thick

Up to seven cross bars along the Y-axis for an extremely rigid machine bed
Four Sanyo Denki 2A stepper motors

Dual stepper motors on Y-axis

All-Steel Motion System™ modeled after the Q-Series

igus®  precision drive screws on all axes

Y-Axis uses silicone seal to prevent debris from entering the drive/motion system

Dual T-Slots in Z-axis to attach additional accessories

Easy care, wear resistant surfaces (powder coating and anodizing)

Includes UCCNC control software
4 steel roller guides per axis (8 on Y-axis)

Ready-to-use track rollers, no pre-load adjustment required

High strength, custom engineered aluminum extrusion profiles on all axes for optimal force distribution and torsional rigidity

igus®  cable chains on all axes

Machine table made from wear-resistant HPL (standard) with optionally available aluminum T-slot and vacuum table

Made In Germany

Supported and Assembled in the USA
SCOPE OF DELIVERY
Complete CNC DIY kit including all mechanical and electronic components

Clamping bars for clamping plate/sheet material

USB cable connection

Operating and assembly instructions

UCCNC Machine Control Software
REQUIRED TOOLS
Needle-nose pliers

Slotted screwdriver

Small side cutters

Tape

Superglue

Allen wrench (2.0, 2.5, 3.0 and 5.0 mm)

Torx 25 HF

Wrench 5.5mm
SYSTEM REQUIREMENTS
PC with 1.6 GHZ processor or greater

USB interface (Ethernet optional)

Windows XP, 7, 8, 10 (32/64 bit)

Max OS X 10.3.9 or higher with Windows emulation


STEPCRAFT D.840
Overall Size/Footprint (X, Y, Z):
17.5" x 19.7" x 21.5" (443 x 600 x 546 mm)
Working Space (X, Y, Z):
11.8" x 16.5" x 5.2" (300 x 420 x 132 mm)
Clamping Surface (X, Y):
12.3" x 19.7" (312 x 500 mm)
Z-axis Passage Height:

5.75" (146 mm)

Repeatability:

+/- .0019" (+/- .05 mm)

Programmable Resolution:

.0003" (.0075 mm)

Backlash: 

                           < .003" (< 0.10 mm)


(Adjustable to 0.000" with software compensation)

Maximum Speed: 

234in/min (99 mm/sec)

Lead Screw: 

igus precision machined 10 x 3 mm

Linear Guide: 


STEPCRAFT aluminum extrusions with integrated track roller guide (AW-6063 T6)



Drive:

Stepper Motors: Sanyo Denki® NEMA17

Tool Holder: 

43mm clamping diameter

Weight: 

36.4 lbs. (16.5 kg)

Machine Table: 

HPL (High pressure laminate)

Input Voltage:

110V

Output Voltage: 

30VDC

Power Consumption:

90/150 watts

Interface:

USB/Parallel/Ethernet RJ-45 (optional)